We highlighted AQRs rapid ascension into the big boy ranks of the managed futures spacein our recent look at assets under management, showing theyre among the largest managed futures managers, now at about $16 Billion Assets as of the end of 2016. But how is that $16 Billion worth of assets feeling about their investment thus far?
We hadnt dug intoAQRs numbers since this 2014 post, and from the calls were fielding, investors arent feeling overly great about things. Unfortunately, all that new money flooding into their main fund, theAQR Managed Futures Strategy Fund (MUTF:AQMIX)over the past few years is looking at having lost around -8% in 2016 and down nearly -12% over the past 12 months. Heres the unhappy chart and stats on Morningstar, leading investors not all that familiar with alternative investments much less the managed futures variety asking whats going on?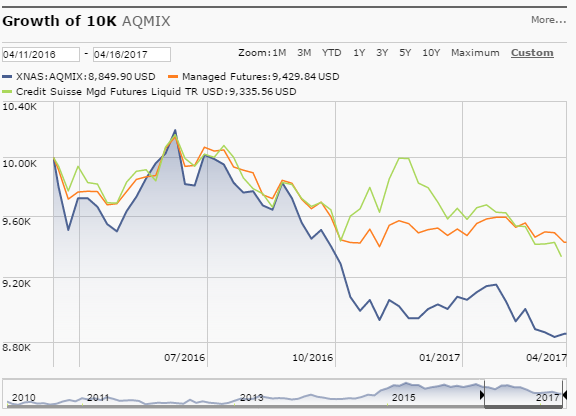 (Disclaimer: Past performance is not necessarily indicative of future results)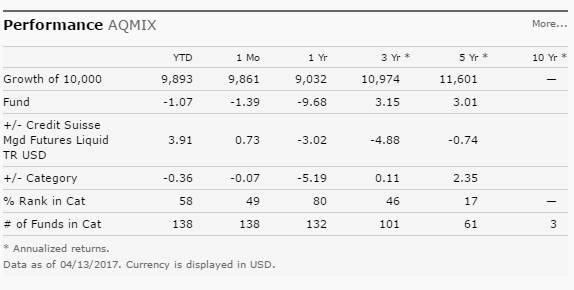 This past years chart sloping from the top left to the bottom right seems to be the mirror image of the total assets in the fund (perBrightscope), which looks like the hill you have to climb virtually on the stairmaster. It seems theyre getting their moneys worth for canvassing the country with wholesalers pitching famous quant Cliff Asness products. It doesnt hurt, either, that Cliff iseverywhere Connie Mack interviews, Investment News conferences,CNBC appearances, etc.) Speaking of his star power one investment advisor we talked to invested inAQMIXsaid he invested because he liked the story about Cliff Asness in The Quants punching his computer. Thats one way to pick investments just dont tell your clients.

So, whats going on? Well be the first to tell you its been one tough environment for systematic programs which rely on market momentum and volatility breakouts. Its been well documented that we are in a historically low volatility regime (see Barrons calling it theleast volatile quarter on record since the 1960sor our 2017 outlook here for more on that). For a systematic trend following type program like AQR, that causes problems, because the program is forced to buy (and sell) intoeveryfalse breakout to insure it grabs the next real breakout. But, if each breakout fails to extend into a new trend due to the low volatility and the growing Buy the Dip mentality, it creates multiple sharpV-shaped reversals. Its the death of a thousand cuts scenario, with the computer models designed to typically look for every possible opportunitymore sothan theyre designed to avoid a lack of opportunity. Stitch it altogether and you get a lot of strikeouts and not a lot of hits, causing consistent losses.
Consistent losses? Who wants that? Well, anyone who is investing in systematic programs for their crisis period performance and ability to catch trends, should. You see, systematic models like AQR are doing what theyre supposed to be doing taking small losses as they stay in the game.Theyre designedto swing at almost every pitch, and lose much less when they lose than win. Think of it like a baseball hitter getting 30 strikes instead of 3. The hits and home runs and count the same, but the strikes are only a tenth of what they usually are. Thing is, you still have to get a good pitch to hit every now and then. And systematic programs like AQR just arent getting the pitches.
So, the first answer as to whats going on is that its par for the course for this type of alternative investment strategy, with the SocGen managed futures index is down -6.20% over the last 12 months, andMorningstar Category average down -4.49%over the same time period Disclaimer: Past performance is not necessarily indicative of future results. And that answer is going to be enough for the grand majority of investors who can fall back on were down, but so is everybody else type logic. More sophisticated investors will take care to notice that AQR isnt just down, but actually downmorethan its peers, on average.You can see on the Morningstar sheetthat it trails the category average by a whopping 6% so far this year, putting it in the 88thpercentile, or roughly the 116thbest out of 132 funds in the category.
Expanding that view, we rank the program against not just other mutual funds, but private funds as well in our new database and assign AQRs Managed Futures mutual fund a ranking of just 2 stars, out of 5, finding it in the 4thquintile of our rankings which consider risk adjust returns and time weighted statistics.